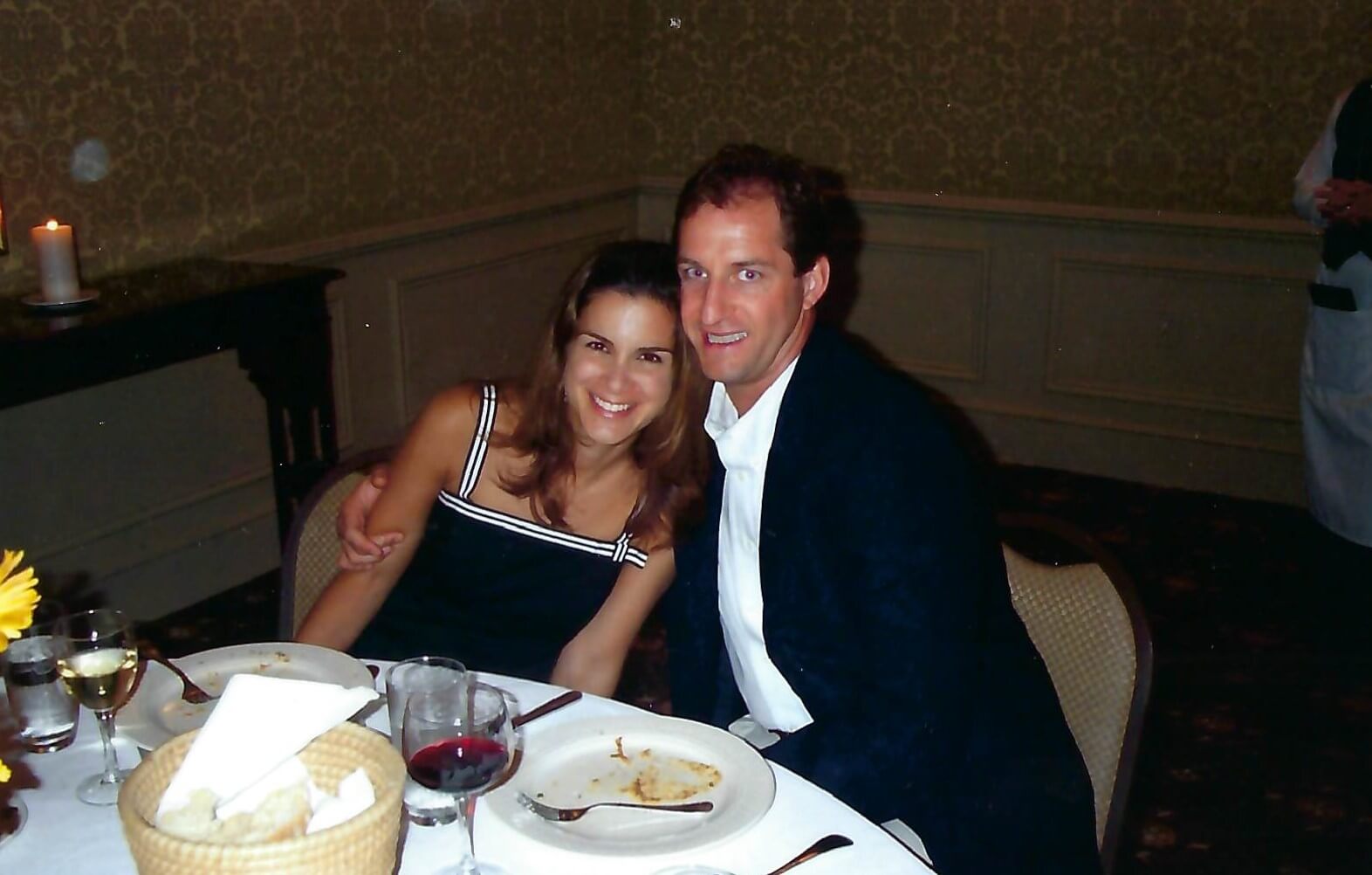 It's amazing how a single image can generate two polarized feelings. This one triggers, in me, both intense joy and unbelievable loss. It was taken at a conference about two months after I found out I was pregnant.
I remember my husband and I seeing the heartbeat on ultrasound, the only appointment that he was able to make, and us laughing and conspiring about how I was going to keep my pregnancy a secret at the conference. I worked in women's health, was well-versed in pregnancy loss and, as a result, we decided that we wouldn't tell anyone until we were out of the first trimester. I had bought a new dress for the speaker dinner (the one in this picture) and we laughed at the waste of money as I probably wasn't going to fit into it by then. How was I going to explain why I wasn't drinking without revealing that I was pregnant to a roomful of woman's health specialists who can sniff out a pregnant woman a mile away?
Well, I was able to wear my new dress and drink my white wine because I lost the pregnancy.
On the day that I found out, I watched as my OB/GYN's expression changed from happy curiosity to confusion and then despair as he futilely searched for the baby's heartbeat at the ultrasound appointment that I had (idiotically) scheduled on my birthday. I almost felt worse for him than I felt for myself, when he had to tell me that the baby had stopped growing, the pregnancy was essentially lost, and then offered me medical or surgical 'options'. I chose to have a D & C because my boss at the infertility office where I worked had a planned vacation and was leaving for a week, a week in which I would help cover the office by performing ultrasounds on patients who were pregnant. Imagine that: Performing pregnancy ultrasounds on patients after having just experienced your own pregnancy loss.
I read once that being emotionally brave isn't a gift or something that you born with, it's something that you work toward in small increments.
I wanted to be 'brave' but I didn't really know what that meant in this case. I know what NOT to say when someone has a loss, hell I teach nurses how to have difficult conversations with people as part of my nursing education business! But when it's happening to you, particularly when you don't have the time or space to grieve, you feel stuck. All of the knowledge that I had on how to handle grief became unraveled by the physical and emotional pain that a pregnancy loss can generate. I read once that being emotionally brave isn't a gift or inherited trait, it's something that you work toward in small increments. It's forcing yourself out of your comfort zone and doing brave little things on a regular basis until the pit in your stomach lessons or subsides, until your breathing is less shallow or your throat less tight.
I made it through that week with the help of close friends and my husband. I had to suppress my grief, short-term, in order to function as a clinician in an office of patients who needed me, but the evenings that week were incredibly tough, as were the following months when unacknowledged grief would rear it's ugly head in the form of an unkind word that I would say or my desire to stay in bed on a beautiful Spring day. Most people don't understand the depth of a loss like this. My sweet boss came back and, upon finding out about my pregnancy loss and subsequent need to cover the office in his absence, asked "Was that tough for you?" Uh, yeah, and thinking only a dude would ask that?!?
Emotions are simply energy that is flowing through your body at that moment, and they can either pass through or get stuck.
Once time passed and somewhat tempered my feelings of loss and inadequacy, I was able to find a sliver of gratefulness as a result of this experience. I gained a true understanding of grief, and how you need to lean into it and go through it to get to the other side. Even though it seems like strong feelings can hurt you, they can't. Emotions are simply energy that is flowing through your body at that moment, and they can either pass through or get stuck. How long they take to pass and their level of intensity can differ, but I knew I had to allow them because I didn't want to be stuck.
I'm not sure why we live in a world where being stoic in the face of grief is defined as brave. Why is crying, when you are sad, bad? You can't escape or postpone pain, it will find it's way out, so better to let yourself feel what you are feeling in that moment and many moments to come. Emotional suppression is not only overrated, it's harmful. I find the work by Dr. Brene Brown on shame and vulnerability so compelling and truly feel that being brave is allowing yourself to be vulnerable. Importantly for us, as caregivers, it's asking for help and allowing ourselves to be supported, in whatever form that takes. I share this personal story as part of my own journey toward vulnerability and in the hope of providing some perspective on pregnancy loss for those who have had it or those who know someone who has.