It is our belief that orienting nurses in infertility should include not only include REI (reproductive endocrinology and infertility) theory but also how to function as part of a cohesive team and how to take care of patients who are incredibly stressed by their infertility journey.
In this case, our team can travel to your organization and provide a "boot camp," where five to eight modules are presented over the course of one to two days. This approach works best if some remote/online support sessions are scheduled as a follow up to reinforce the information presented in the in-person sessions.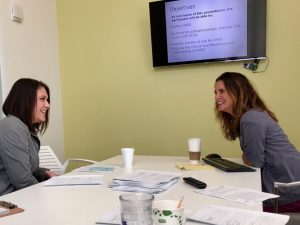 To maximize our time on-site, we will work with your organization's liaison to identify learning needs, knowledge levels, and positions of the people attending to create a customized schedule. For example, some centers have new nurses attend both days, experienced nurses attend half-day or one day, and marketing or other non-clinical staff attend only those sessions that would be helpful to them in order to facilitate patients' phone calls or care.
Handouts are emailed in advance to minimize participants' writing during the learning session(s). Case studies and interactive question and answer sessions are scattered liberally throughout the day(s) in order to engage learners.